Silk is the only organic fiber that is in the form of a filament, and it is produced by the silkworm. In spinning its cocoon for its metamorphosis from the chrysalis state, the silkworm forms in its internal orifices called "spinnerets" located below its mouth. When emitted, the two threads combine into a single thread and harden immediately upon exposure to air. the filaments adhere to each other to form the cocoon shell. After the cocoons are harvested, they are 'reeled" by placing them in a basin of hot water to loosen the filaments, pulling the filament ends of several cocoons 4 to 20 ends together, and adhere to each other because of the natural gum on their surface. this reeling process results in a single yarn of silk. It appears to the unaided eye to be a single filament, but in actuality it is composed of several very fine filaments. Mulberry silk is produced from domesticated silkworm. These silkworm consume Mulberry leaves to produce silk. Like most natural fibers, fiber quality measured as fiber fineness (micron), fiber length, fiber purity, fiber strength and fiber cleanness. For silk, fiber luster is an additional quality measurement.

Mulberry silk yarn is called thrown silk or water_reeled silk or silk filament, it is used in many applications such weaving, knitting, needle works, music instrument string, carpet warp or weft, scarf fringing.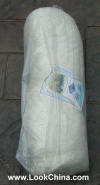 The most popular silk Dupion fabric is made from Mulberry silk yarn.
Mulberry silk can be blended well in any yarn-making, such as woolen blending, cotton spinning system and handcraft applications.

Mulberry silk sliver come with 11 lbs per bump, it is an industrial package. It is perfect for retail stores for easy handling, storage, display, rewind and sell by the ounce or pound. Mulberry silk sliver, 5 denier and 6 inches length, designed for easy home spinning project or blended with other exotic fibers for textiles & art applications. On Back Order
For wholesale, 11 lbs per bump minimum purchase $319.99 + flat rate $14.00 (S&H), total $333.99 to anywhere in USA (click the picture on right above to enlarge).
Manufacturer Suggested Retail Price (MSRP) > $3.00-$5.00/oz
Pay via checks, money order will help us save online banking charges, we will save you too. Get $5.00 off for >$100.00 purchase paid via checks, money order only. Print this coupon and mail it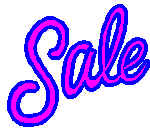 back with your check/money order, payable: LookChina, Inc.



Mailing address:
LookChina, Inc.
PO BOX 416
Cramerton, NC 28032 USA
.
E-mail: Sales@LookChina.com