<![if !vml]>

<![endif]>
LookChina, Inc. Launches 4-way Stretchable Spacer Knitted Fabric QuikSlim®
August 30, 2010
Innovation isn't easy, it's just essential. In pursuit of knitting innovation, we have

developed a feature- enhanced 4-way stretchable knitted spacer fabric that has a promising utilization in home textiles, automobile, apparel and medical industries.

4-way stretchable knitted spacer fabrics are constructed like a sandwich; a fabric layer on the top and bottom, with a third connecting layer tucked in-between. It is a three-dimensional integrated fabric structure with no foam, no adhesive and no Latex! This fabric enjoys great longevity without the deterioration and breathablity problems that normally accompanies a laminated product.

Our new feature-enhanced 4-way stretchable knitted spacer fabric offers several characters:
1) Even compression in all directions (4-way stretchable) and cushioning effect
2) Thermal insulation, temperature regulation, air permeability and breathablity
3) Lasting and sustained compression memory
4) Easy care, machine washable and tumble dry
5) No yarn raveling

In fabric development, there are commercial incentives to add additional features to the aesthetic value of fabric. However, "value-added" features are also being developed to create solutions for specific applications. Researchers have revealed that the comfortablilty consumers' experience when wearing apparel is closely related to fabric three main factors:
1) Temperature control;
2) Moisture management; and
3) Customized compression.
Apparel industry has been using stretchable fabrics for years and apparel marketing campaigns have done a good job advertising the temperature control and moisture management factors as benefits to consumers. As a result, buzz words such as thermo, insulated, breathable, absorbent, wicking, Quick Dry, Double Dry, Wind/waterproof, and Cool, are common. Most consumers have experienced pleasing benefits when wearing apparel made from fabrics with a compression factor, such as stockings, socks, long johns, bras, briefs, gloves, headbands, turtle-neck sweaters, but this factor has not been as highly publicized as temperature control and moisture management. Because the compression factor found in stretchable fabrics allows the garment to contour to the shape of the human body while offering aerodynamic and freedom of movement advantages, it is being used in sportswear apparel and has become known as "Compression Wear".

In addition, stretchable fabric has been used in the medical field for years. Doctors have been using and prescribing 2-way stretchable fabric as compression wear to patients, such as stretchable bandages, compression socks and elastic wraps, which are applied to foot, ankle, knee, wrist, elbow, back, and shoulder injuries…these elastic textile materials offer key healing power

generated from fabric "compression". Research has shown that the correct degree of compression in appliances used in medical treatments offer the following benefits:

1) Reduction in the fluid build up in surgical area (Edema reduction and management);
2) Compression of body tissues, which speeds up the healing process;
3) Support and promotion of new skin adhesion to newly contoured surfaces;
4) Holds surgical dressing in place; allowing the patient to have more freedom of movement; and
5) Enhancement in blood flow.
Although there are many applications that 2-way stretchable or elastic wraps have been used, its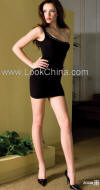 construction does not provide even compression distribution, its monotone or narrow range of compression with poor elastic memory limits its use in medical garments for patients. Until recently, most compression wear apparel has been made from 2-way stretchable or a thin 4-way stretchable knitted fabric with or without lamination of the center element. However, newer fabrics which provide a 4-way stretch, even compression, air permeability, and thermal insulation with cushioning effects are emerging as "Healing Wear".
Healing wear is a compression medical garment with a specific purpose: to encourage the healing and recovery process after a reconstructive or aesthetic medical procedure, and to help the skin conform to its new contours. Current uses include maternity and postpartum support products for pregnant women and garments for cesarean incision healing, stretched abdominal muscles, abdominal separation, spinal realignment, back pain, posture improvement, organ repositioning, ligament stabilization, breast tenderness and liposuction for both men and women.
Healing wear requires the fabric to possess the following physical properties:
1) Even compression in all directions (4-way stretchable) and cushioning effect
2) Thermal insulation, temperature regulation, air permeability and breathablity
3) Lasting and sustained compression memory
4) Easy care, machine washable and tumble dry
5) No yarn raveling, which to retain healing wear's integrity after been cut or pierced, as holes are often made to accommodate patient fluid drain or intravenous tubes during medical treatment
In additional to the fabric quality requirements listed above, healing wear garment production requires customization to ensure accurate compression is applied to the uniqueness of the personal physiques or a special surgical area.

Our new feature-enhanced 4-way stretchable knitted spacer fabric has special properties and versatility. We believe our spacer fabric will positively impact usability of spacer fabric in home textiles, automobile interiors, apparel and medical applications. 4-way stretchable knitted spacer fabric will offer consumers a great deal of opportunities by altering yarn selection and spacer gauge, it results modifying fabric weight, thickness, aesthetics, physical properties and cost of the fabric to meet market specific needs.
LookChina, Inc. is offering 4-way stretchable spacer knitted fabric QuikSlim® in 12 fashionable colors for 2010 season. This fabric is made of 90% polyester and 10% Lycra, fabric width 60 inches, weight 310 GSM (Grams Per Square Meter) or 9 OSY (Ounces per square yard), 58 yards per roll. The current release is limited to our signature color "Deep Space" for promotional sales. For fabric sample or sale inquiry contact: sales@LookChina.com or toll free: 1-888-779-7996. Skype:lookchina.com
http://www.webwire.com/ViewPressRel.asp?aId=105844

A Green Approach To Soundproofing Blankets
Monday, August 03, 2010
http://www.webwire.com/ViewPressRel.asp?aId=100546
North Carolina, USA, August 3, 2009 - The need to reduce outside noise is a challenge for anyone seeking peace and quiet, from professional to home applications. Be it a parent's need to secure quiet for their sleeping child, or an audio technician's desire for the best recording location possible, either can be a daunting task.
"Audio and motion picture professionals have sought effective avenues to control sound from the earliest days of these professions, " according to Dr. Johnson Wu, a principal at LookChina (www.LookChina.com), a North Carolina based provider of renewable textile manufacturing.
The problem? "Producing new textiles to integrate into the creation of sound proofing materials that are effective and ones that do not negatively impact the environment ... ", summarizes Dr. Wu.
So, in a classic win, win scenario, LookChina is reclaiming natural fibers and textiles and integrating them into the creation of sound proofing sound blankets. Called EZ Hang Acoustic Soundproof Blankets, these sound proofing tools are easily hung by convenient loops sewn into the durable fabric that encases the inner materials. These inner materials are comprised of sanitized and recycled all natural textiles processed into the manufacturing of these soundproofing blankets.
"It's not just professionals who appreciate the significant reduction of interfering sound, but we've also found that every day people use our sound blankets to block out interior or exterior noise at home, " Dr. Wu explains. The concept seems simple enough; sound is less apt to bounce off of soft surfaces as compared to hard. Additionally, these soft surfaced sound blankets stop the flow of sound, similar to temperature insulation, so you can imagine hanging one in front of a window to keep outside noise from getting in.
The sound proofing blankets are 72 by 80 inches in size and weigh 7 pounds. They are black in color, and are machine washable. The product is just beginning to enter North American markets and LookChina, founded in 1998, seeks to expand their distribution of this product both online at www.LookChina.com and through a developing distributorship network.